Honorary members
Evgeniya Koshkina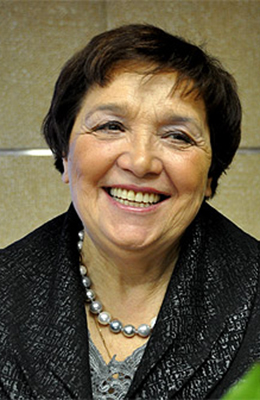 In 1968 she graduated from the 2nd Moscow State Medical Institute named after N.I. Pirogov, in 1976 she defended her PhD thesis. From 1986, she was Head of the department of social and psychological studies of our Centre in 1991, she was the leader of the scientific and organizational department, and in 1992 Head of the Department of Epidemiology and Substance Abuse Treatment. In 1998, Eugenia Anatolievna defended her thesis for the degree of Doctor of Medicine, in 1999 she was awarded the title of Professor specialized in "narcology." Since April 2010, E.A. Koshkina is Head of the Federal National Narcology Research Centre of the Ministry of Health and Social Development.
E.A. Koshkina is a qualified specialist in the field of drug treatment, drug epidemiology study of diseases and their prevalence in different regions and cities of the country. Constant monitoring of the drug situation in the country and provision of predictions about the situation in the field of substance abuse are usually conducted under her leadership.
As part of an international project ESPAD (European School Project Research). Under the direction of E.A. Koshkina, a research team examined the trends of substance abuse among students in countries and regions of Russia.
Since 2000, a statistical publication "Key performance indicators of drug service in the Russian Federation" is edited by E.A. Koshkina and regularly published.
Under her leadership, 3 doctoral and 11 master's thesis papers, over 300 papers in leading journals of the country, in the manual on drug and other monographs were published.
The results of the research by Professor E.A. Koshkina are widely used in the Reports and concept papers, prepared for the Ministry of Russia and other governmental agencies.
From 2005 to 2008, Evgeniya was the main external specialist-expert of the Ministry of Health and Social Development of the Russian Federation on Children's Addiction.