FLAG
The flag of the World League "Mind Free of Drugs" contains a symbolic representation of the human consciousness, which tears apart the bars of narcotic addiction.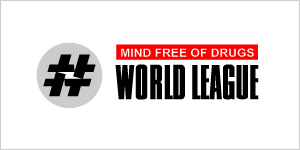 THE SACRED STONE
This is a perfectly rounded stone with a proven geological age of 350,000,000 years. The stone is the symbol of the unity of mind and spirit.
These stones are collected from the highest mountain peaks at the Moldo-Too mountain chain, the home and sanctuary of these sacred stones.
According to ancient legends, these stones are the energetic epi-centers of the gods. They contain magic powers of light which are able to combat the darkness of evil.
Drug addiction is a modern appearance of evil and can only be beaten by the power and will of a strong spirit, strong willpower and strong mind. We must preserve these qualities within every human on the planet.
A stone is handed to the Honorable Members of the World League "Mind Free of Drugs" and to the patients who complete their pilgrimage to the sacred mountain of salvation, " Tashtar-Ata", the holy place of repentance and the last hope for a cure from drug and alcohol addiction.