Honorary members
Igor Makarov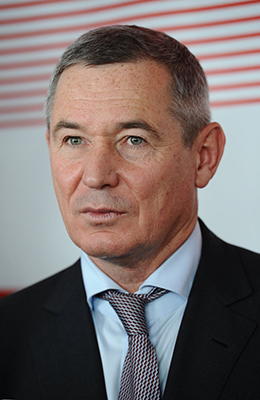 Born on 5 April 5 1962 in Ashgabat (Turkmenistan). Graduated in 1983 from the Turkmen State University, after which he was drafted into the Soviet Army. In 1986-1989 he taught at the Kazan State University. From 1989-1992 he worked in the private sector.
For more than 10 years I.V. Makarov was a member of the Soviet national cycling team, a multiple winner of All-Union and international competitions, and a world-class athlete.
At the end of his sporting career he engaged in the development of private business, from the management of a small factory and sale of the finished products to the creation of a large international holding. In 1992 he founded and headed the company "ITERA".
"ITERA" became the first private company in the Russian gas market.
In 2005 he was appointed Honorary Consul of the Republic of Belarus in Moscow. I.V. Makarov worked in the Committee on Fuel and Energy Complex and reproduction of mineral resources of the Government of the Russian Federation.
Since 2008 he has served as Deputy Chairman of the Board of Trustees of the Russian Cycling Federation. In June 2010 he was elected president of the Russian Cycling Federation and in September 2011 he was elected to the Steering Committee of the International Cycling Union (UCI). In December 2011, was nominated to the Board of Directors of "Rosneftegaz" and in February 2012 to the Board of Directors of OJSC "AK" Transneft ".
"I have travelled the world a lot and I know that the drug problem is very acute in all corners of our planet. Through communication with professor Nazaraliev I joined the great mission of fighting against drug addiction and became an honorary member of the World League "Mind Free of Drugs". I understand that only through the participation of everyone in this noble cause will we help to prevent this narcopandemic. Launched recently under the auspices of the World League "Mind Free of Drugs" the anti-drug online contest "Maya" is excellent proof of this cause. This project will bring together all the people who care about the idea of defending the world from the impending drug disaster. Through creative display of the horrific reality of the drugs world, together we will give humanity a huge push to eradicate this narcopandemic".