Honorary members
Pyotr Klimuk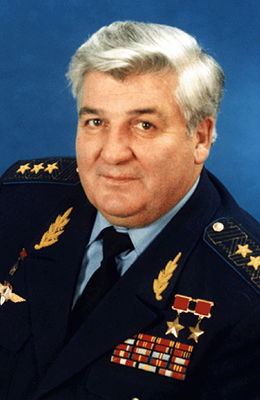 Pyotr Ilyich Klimuk (born on July 10 1942 in Kamaroŭka, Brest Voblast, Byelorussian SSR) - a former Soviet cosmonaut and the first Belarusian to perform space travel. Twice Hero of the Soviet Union (1973, 1975), Colonel-General in aviation, Doctor of Science (1995). Member of the CPSU since 1963.
Klimuk attended the Leninski Komsomol Chernigov High Aviation School and entered the Soviet Air Force in 1964. The following year, he was selected to join the space programme. His first flight was a long test flight on Soyuz 13 in 1973. This was followed by a mission to the Salyut 4 space station on Soyuz 18 in 1975. Klimuk made three flights into space as a crew commander.
Since March 30, 1976 - the deputy commander of the cosmonaut CPC for political affairs. On January 24, 1978 - Deputy Head of the CPC and the chief of the political department of the Centre. On 3 April 3 1991, in connection with the dissolution of the political agencies in the army, he was appointed to the position of head of the military's political department and deputy chief of the CPC. From 12 September 1991 to September 2003 he was Head of the Cosmonaut Training Center named after Yuri Gagarin. He was Deputy of the Supreme Soviet USSR of the 10th convocation and people's deputy of the USSR (1989-1991).
"It's sad! Very sad that we have to discuss such topics! But it is impossible to ignore this issue, because it is a tumor of society, a poison which we need to get rid of. We need to influence our youth - then maybe things will change for the better. I fully support all initiatives of the project. Good luck to you!"