News
26.03.2016
The Arabian football stars become Honorable Members of the World League "Mind Free of Drugs"
Popular Arabic football players Majed Abdullah and Nawaf at-Temyat become Honorable Members of the World League "Mind Free of Drugs" which is fighting drug abuse and illegal drug trafficking around the world. Abdullah and at-Temyat actively involved in anti-drug project "Nebras", initiated by the National Committee against Drugs Addiction, Saudi Arabia.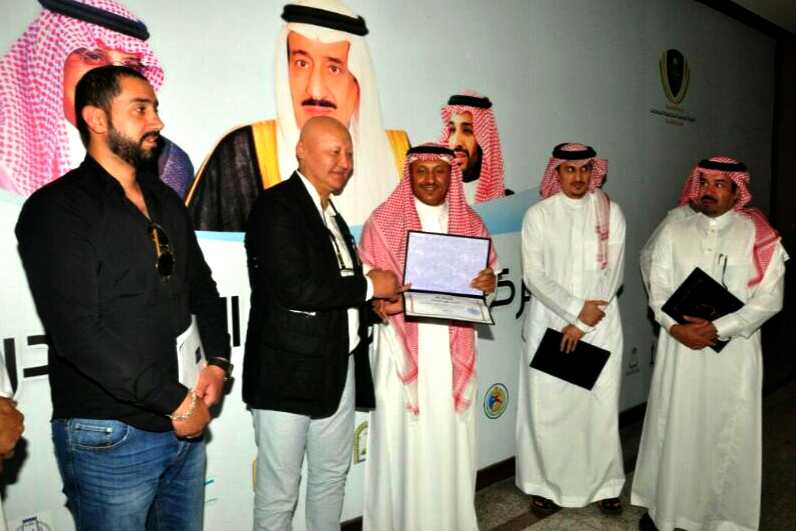 The President of the World League Professor Jenishbek Nazaraliev handed the Honorable Members certificates to the football players during his official visit to Riyadh. A popular Saudi Artist Abdulhafez Al-Ghamdi, who is also systematically engaged with drug police of Saudi Arabia also becomes the Honorable Members of the World League.
At the International Day against drug addiction and its illicit trade, on the 26th of June 2014, the World League has launched a charity project "The World Needs You!" aimed at helping drug addicted patients in Arabic countries. Today, the free treatment was already received by the citizens of Saudi Arabia, Egypt and Lebanon. This is a long-term and a large scale project which will continue running.
Among the Honorable Members of the World League, there are many representatives of politics, business, culture, sport, and confessions. One of the first members of the World League is the Ex-General Secretary of the United Nations Mr. Kofi Annan, followed by the leader of Tibetan Buddhists His Holiness Dalai Lama the XIV, then a popular actor Mr. Arnold Schwarzenegger and many other distinguishing leaders.
The main ideology and mission of the World League is to form a strong immunity against drugs in the world society. The participation of the world leaders is helping in promote anti-drug values and ideas.