News
22.09.2014
"The World Needs You!" - patient with liver cirrhozes arrives to clinic from Saudi Arabia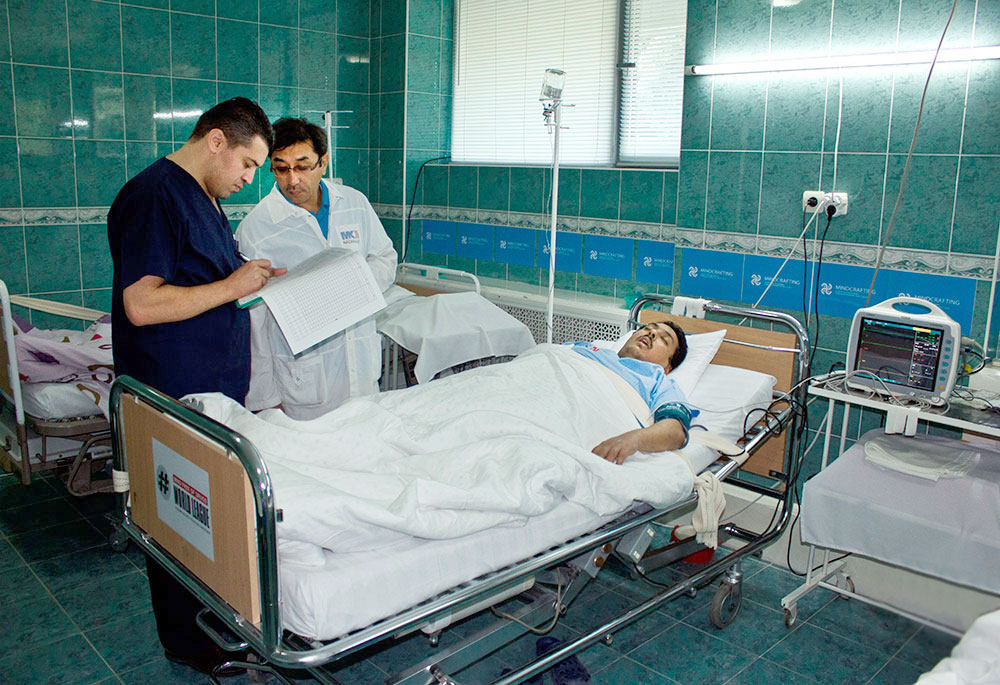 Upon admission to the medical center of Dr. Nazaraliev, (MCN- Bishkek, Kyrgyzstan), the patient from Saudi Arabia, Mr. Tamer Muhammad Abdullah Rocon had a complex examination.
After the examination, doctors have found that participant of our charity event is having the following diagnoses: liver cirrhosis, diabetes, high blood pressure, inflammation of duodenum and stomach ulcer.
During interview, patient was complaining, saying that he feels pain in the rib cage, has absolutely no appetite, feels exhaustion and fatigue, stomach bloating, and limbs swelling.
All detected latent diseases which has Tamer, complicate the whole treatment process. At this point, Tamer is already undergoing a series of central cholinolytic blockades, or the atropine comas. During comas our patient is put to sleep. These sessions help Tamer to ease abstinent syndrome and reduce physiological cravings for drugs.
Tamer has been using drugs and alcohol for over 25 years. Hard drugs have been in his life for 22 years. More than 40 times, Tamer had been admitted to different clinics at home, but they did not help him to quit.
Socially oriented campaign "The World Needs You!" took its start in Saudi Arabia since 26th of June this year. Accordingly to the results, several thousand applicants wanted to undergo free treatment in our clinic, yet we have chosen the most difficult patient.
Socially oriented organization, the World League "Mind Free of Drugs" will demonstrate the whole treatment and rehabilitation process of Tamer. It will reveal and discuss current obstacles and issues raised in connection to drug addiction, its illegal trade, corruption, social aspects, and public attitude towards drug addicts in Arab countries.
The campaign will be realized together with Medical Center of Dr. Nazaraliev
In the frames of this campaign, 194 countries, officially recognized by the UN, will be covered.
At this point, "The World Needs You!" is engaged in Arab countries. The time schedule can be viewed here.
Soon, the documentary footages with Tamer can be viewed on the web site of the World League.