News
5.04.2013
Professor Nazaraliev met with Ambassador of Afghanistan to the Kyrgyz Republic
5 апреля состоялась официальная встреча Женишбека Назаралиева с Чрезвычайным и Полномочным Послом Исламской Республики Афганистан в Кыргызстане Нуром Мохаммадом Каркином. В ходе встречи профессор рассказал дипломату о проектах общественной организации Всемирная Лига «Разум вне наркотика» и обсудил с ним варианты совместной работы с Правительством Афганистана.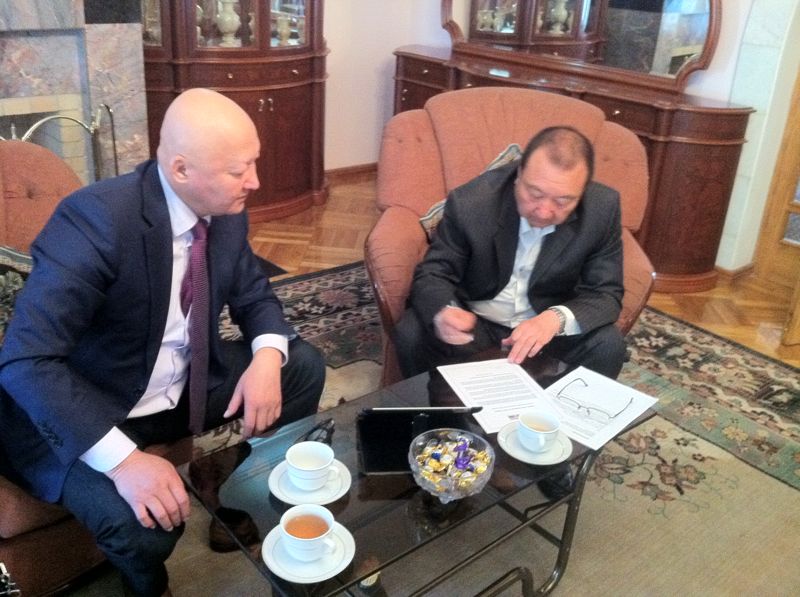 On April 5th there was an official meeting of Jenishbek Nazaraliev with Ambassador Extraordinary and Plenipotentiary of the Islamic Republic of Afghanistan to Kyrgyzstan Mohammad Nur Karkin. During the meeting, professor told about the projects of NGO World League "Mind Free of Drugs," and with diplomat discussed the options for collaboration with the Government of Afghanistan.

The parties discussed the conduct of exhibition "The world against drug addiction" in Afghanistan, scheduled for November of this year, and to present TV project Doctor Life about the rehabilitation of eight drug addicts from Russia, Germany and the USA at state television of Afghanistan.
The ambassador was especially interested in possibility for doctors and medical students from Afghanistan to pass the training courses at the Medical Center of Professor Nazaraliev. Earlier, a similar program has been initiated by the Government of the Republic of Tuva, and will be implemented in 2013-2015.
The result of this training, according to the diplomat, would be opened in the Afghan capital, Kabul, a charity clinic, where will be carried out the drug rehabilitation by the method of Nazaraliev.

In conclusion Nur Mohammad Karkin signed an Appeal to the Humanity of XXII century, joining the ranks of honorary member of the World League, then a professor invited him to visit Medical Center of Nazaraliev to familiarize himself with the method of treatment.